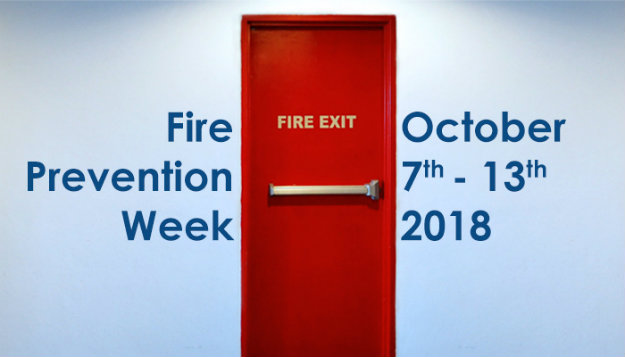 Fire Prevention Week is here. In 2018, this annual reminder of the importance of fire safety falls on October 7th-13th.
How much do you know about fire prevention and protection for your home and business? What steps can you take now to protect yourself, your loved ones, and your most valued assets from an unexpected incident?
About Fire Prevention Week
In June, 1805, the city of Detroit suffered a massive fire. No one in the city – which, at that time, had a population of roughly 600 – died in the blaze, although an enormous amount of property was destroyed, with the small city essentially leveled to the ground.
Without an organized fire department, the people of Detroit came together to form a "bucket brigade," hoisting water from the river to try to quell the flames. And after the damage, the people came together once again, to rebuild an even stronger, brighter city – an event that is symbolized on the flag of Detroit today.
Many Michaganders also know the story of the Great Chicago Fire. Beginning on October 8th, 1871, a massive fire roared through Chicago, causing devastating damage – by some estimates, the blaze destroyed more than 17,000 structures, and burned more than 2,000 acres of land.
Some decades later, in 1925, President Calvin Coolidge proclaimed National Fire Prevention Week as a national observance, to be held on the week around October 8th and 9th – in memory of that dreadful Chicago fire.
National Fire Prevention Week is now the longest-running public health observance in the U.S. It is a time when schools, businesses, and families can come together to learn about the importance of fire prevention, and understand the steps we can all take to stay safe in the event of a fire.
The Calamitous Effects of Fires in the U.S.
Did you know that:
In 2016, fire departments responded to roughly 1,342,000 fires – that's an average of one fire every 24 seconds
In 2016, the last year data was available, fires directly caused nearly 3,400 civilian deaths, more than 14,600 injuries, and roughly $10.6 billion in property damage
The risk of a nonfatal fire injury is highest for those aged between 20 and 49
Home fires cause the greatest number of civilian fire deaths and injuries (81% and 73%, respectively). Home fires are most commonly caused by cooking equipment, heating equipment, and electrical/lighting equipment
Businesses are also at risk. In 2016, the last year data was available, FEMA and the U.S. Fire Administration counted more than 96,000 non-residential building fires, resulting in a dollar loss of roughly $2.7 billion.
It's hard to overstate the importance of fire prevention, planning, and safety. In just a few fleeting moments, a fire can have a devastating impact on your home or business.
Every year, millions of Americans suffer the lasting effects of a fire. Ignoring the risks could mean exposing your friends and family, your most prized possessions, and your livelihood to significant danger.
What Steps Can You Take to Prepare for the Unexpected?
All of this serves to demonstrate why Fire Prevention Week is so vital. Taking some time to educate yourself, your family, and your employees on fire safety in advance could make an enormous difference down the line.
There are many ways that you can also take action now. For instance, ask yourself if your home or office has a fire escape plan in place. Before a fire strikes, it may help to develop and practice an emergency preparedness plan, including designated exit routes, rendezvous points, and options for contacting your local authorities. Studies show that, while 71% of Americans have an escape plan in case of a fire, only 47% have practiced it.
Formally or informally, families, individuals, and business owners can all take steps ahead of time to help prevent fires. Action items may include installing and regularly testing smoke alarms; implementing safety best practices in the kitchen; and evaluating and maintaining your heating systems.
For more insights and guidelines, you may wish to peruse the following resources from the National Fire Protection Association:
Fire Prevention Week: Talking Points and Tactics
For businesses, it may also be worthwhile to perform a risk management assessment for your company. This allows you to forecast, evaluate, and prioritize potential risks in order to implement procedures that may minimize their adverse impacts. It may also benefit professional organizations to have a business continuity plan in place. This is a policy designed to increase organizational resiliency and keep up service and functionality after a significant event, which might include the death or disability of a key person for your company, or a natural or man-made disaster.
The Importance of Insurance
Fires can have damaging and lasting consequences for households and businesses alike. A blaze lasting only a few minutes could lead to a significant loss of property, and severe injury to yourself and others. A fire might impact your business' operations for months or years to come.
Having the right coverage in place could mean the difference between losing everything, or being able to pick up the pieces, rebuild, and continue forward – just as the brave people of Detroit and Chicago did so many years ago.
When it comes to your home or your business, it truly pays to have the peace of mind associated with a policy from Robert Loomis & Associates.
We provide innovative insurance solutions tailored to fit the unique needs of all of our clients, providing insight from our perspective of nearly 50 years of expertise. Whether you are looking for insurance for your business or personal life, Robert Loomis & Associates provides competitive products with unparalleled service.
Looking for assistance in finding the proper insurance for your needs? Ready to take steps to prepare for whatever the future may bring? Please do not hesitate to fill out the "Request a Quote" form or call us at (313) 885-1382 to schedule an appointment.